We are passionate about helping our patients become parents. 
Welcome to IVF.org, the website of the Ronald O. Perelman and Claudia Cohen Center for Reproductive Medicine (CRM) of Weill Cornell Medicine and NewYork-Presbyterian Hospital. 
At CRM, we have recruited top physicians and scientists who continue to develop and enhance many of the treatment modalities utilized in reproductive endocrinology and fertility throughout the world. It brings me great joy to see this work in action and to play a role in making our patients' dreams of having a family come true. 
All of us at CRM feel fortunate to have the privilege of helping our patients build their families.  
I invite you to learn more about CRM and to schedule a consultation with a CRM physician, and wish you the best on your journey to parenthood.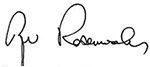 Zev Rosenwaks, M.D. 
Director and Physician-in-Chief, Ronald O. Perelman and Claudia Cohen
Center for Reproductive Medicine
Revlon Distinguished Professor of Reproductive Medicine
Professor of Obstetrics and Gynecology and Reproductive Medicine
Weill Cornell Medicine

Attending Obstetrician/Gynecologist
NewYork-Presbyterian Hospital