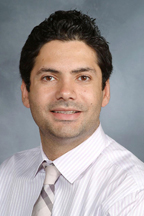 Associate Professor of Clinical Obstetrics and Gynecology and Clinical Reproductive Medicine
Associate Attending Obstetrician/Gynecologist, NewYork-Presbyterian Hospital
"The Ronald O. Perelman and Claudia Cohen Center for Reproductive Medicine represents the ideal mix of applied evidence-based medicine, cutting-edge technology, and efficient patient support. Our practice is unique because CRM's physicians, nurses and staff are fully dedicated to providing clinical expertise and maximum comfort during each visit."
Dr. Rony Elias is an Associate Professor of Obstetrics and Gynecology and Reproductive Medicine at The Ronald O. Perelman and Claudia Cohen Center for Reproductive Medicine (CRM) of Weill Cornell Medical College. He is board certified in both Obstetrics and Gynecology and Reproductive Endocrinology and Infertility. Dr. Elias' surgical skills and clinical results make him a star in his field.
Graduating with his medical degree from the American University of Beirut in 2002, Dr. Elias completed his residency at The George Washington University (GWU) in 2007. While at GWU he received several awards for his scores on the annual national Obstetrics and Gynecology resident exam (CREOG). Dr. Elias is also the recipient of the BERLEX Award for his significant contribution to medical education and the GWU Resident Award for consistent excellence during residency.
Dr. Elias completed a fellowship in Minimally Invasive Gynecologic Surgery at GWU in 2008. This experience honed his surgical expertise, as he performed over 600 procedures in one year. Afterwards, he joined Weill Cornell Medical College and completed a second fellowship in Reproductive Endocrinology and Infertility at CRM in 2011. Dr. Elias accepted a faculty appointment at CRM in 2011 upon completion of his fellowship.
His clinical expertise includes in vitro fertilization (IVF) and intrauterine insemination (IUI) as well as the latest in surgical infertility interventions. Dr. Elias has a special interest in minimally invasive gynecologic and infertility surgery using robotic, laparoscopy and hysteroscopy, advanced surgical treatment of severe endometriosis and uterine abnormalities.
Dr. Elias has authored and co-authored several peer-reviewed articles published in leading scientific journals. The focal points of his research are the effects of uterine factors on infertility, as well as novel stimulation protocol to improve egg maturity and normal fertilization rates. In addition, it is his priority to identify the possible etiologies of infertility prior to proceeding with infertility and advanced IVF treatment.
Dr. Elias has published on the management of ovarian hyperstimulation syndrome, optimal stimulation protocols with dual trigger, and fertility preservation options in patients undergoing cancer treatment. He has been involved in several presentations at national and international meetings regarding unique techniques in performing major gynecologic surgeries such as laparoscopy, ovarian cyst resection and fibroid removal. He is a member of the American Society for Reproductive Medicine, Society of Reproductive Surgeons and a Fellow of the American College of Obstetricians and Gynecologists.
Dr. Elias' mission is to provide each patient with a holistic experience by combining innovative clinical expertise with a compassionate understanding of patients' desires and expectations. He believes that while most patients might fit in the 95th percentile, he aims to treat the inclusive 100%. His unwritten rule is that the goal is to identify the 5% who need their special treatment protocol to help achieve their goal of building a family. He is fluent in English, French and Arabic and proficient in Spanish.
Dr. Elias see patients at CRM's main office on Manhattan's Upper East Side and in Mt. Kisco, Westchester County. Please call (646) 962-7860 for more information or to set up an appointment.