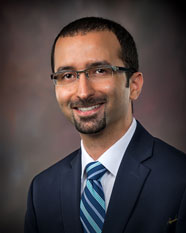 Assistant Professor of Reproductive Medicine and Obstetrics and Gynecology
Assistant Attending Obstetrician/Gynecologist, NewYork-Presbyterian Hospital
"At the Ronald O. Perelman and Claudia Cohen Center for Reproductive Medicine, we strive to provide compassionate and customized care to our patients and help them achieve their goal of a healthy baby or preserve their fertility. I spend the necessary time with my patients to tailor science-based treatments to their unique circumstances. This individualization of care is a critical reason for our treatment success rates and high patient satisfaction."
Dr. Mohamad Irani is as an Assistant Professor of Obstetrics and Gynecology and Reproductive Medicine at The Ronald O. Perelman and Claudia Cohen Center for Reproductive Medicine of Weill Cornell Medical College. Dr. Irani completed his fellowship training in reproductive endocrinology and infertility at New York Presbyterian/Weill Cornell Medical Center. He is double board-certified in both OB/GYN and reproductive endocrinology/infertility. Dr. Irani is a member of the American Society for Reproductive Medicine and the Society for Reproductive Endocrinology and Infertility.
Dr. Irani received numerous awards for his clinical expertise, surgical skills, and medical research. In 2022, he received the American Society for Reproductive Medicine Star Award. He also received the New York Obstetrical Society Resident and Fellow Research Night Awards for outstanding research papers, the Gynecological Society of Brooklyn and Staten Island's first prize for research, and the American Association of Gynecologic Laparoscopists award for surgical excellence. Furthermore, Dr. Irani was the recipient of four grants from the Maimonides Research and Development Foundation.
Dr. Irani's clinical expertise comprises all aspects of reproductive medicine, including IVF, ICSI, preimplantation genetic testing, fertility preservation, egg freezing, ovulation induction, intrauterine insemination (IUI), polycystic ovary syndrome, amenorrhea, diminished ovarian reserve, recurrent implantation failure, recurrent miscarriage, premature ovarian insufficiency, endometriosis, male infertility, egg donation, third party reproduction, and LGBTQ+ reproduction. He is a skilled surgeon and performs minimally invasive laparoscopic and hysteroscopic procedures to treat uterine, tubal, and ovarian pathologies.
Dr. Irani has published 39 peer-reviewed scientific manuscripts in prestigious journals such as Journal of Clinical Endocrinology and Metabolism (JCEM), Human Reproduction, Fertility and Sterility, Journal of Assisted Reproduction and Genetics (JARG), Obstetrics and Gynecology, and PLOS ONE. He has also written textbook chapters and authored 85 research abstracts that were presented at national and international scientific meetings such as the American Society for Reproductive Medicine and the European Society of Human Reproduction and Embryology. Dr. Irani is an Ad Hoc reviewer for several scientific journals, including Human Reproduction, JARG, Reproductive Biomedicine Online, Reproductive Biology and Endocrinology, and JCEM. He has reviewed abstracts submitted to the annual scientific meetings of the American Society for Reproductive Medicine and Society for Reproductive Investigation.
Dr. Irani sees patients at both CRM's Tribeca office in Lower Manhattan (255 Greenwich St, Suite 540, New York, NY 10007) and CRM's Brooklyn office (186 Joralemon St, 6th Floor, Brooklyn NY 11201). Please call (646) 962-7499 for more information or to schedule an appointment.