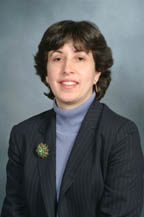 Consulting Psychologist
Clinical Assistant Professor of Psychology in Psychiatry
Dr. Laura Josephs is a Consulting Psychologist at the Ronald O. Perelman and Claudia Cohen Center for Reproductive Medicine. She is Clinical Assistant Professor of Psychology in the Psychiatry Department of Weill Cornell Medical College and the founder of the Ob/Gyn-Psych clinic, a weekly psychological consultation program for obstetrical/gynecological patients at NewYork-Presbyterian Hospital.
As a consultant, medical researcher and educator, Dr. Josephs specializes in women's health psychology, offering psychotherapeutic services to patients experiencing infertility or pregnancy loss, along with patients coping with psychological difficulties during pregnancy or in the postpartum period. At CRM, Dr. Josephs offers consultation and psychotherapy to patients participating in both the in vitro fertilization and donor egg programs. She provides both individual therapy and marital therapy. In addition to her clinical responsibilities, she leads a women's drop-in support group and is actively involved with the process of screening egg donors at CRM.
Dr. Josephs completed her undergraduate studies with highest honors from S.U.N.Y. Binghamton and received her Ph.D. in Clinical Psychology from the Institute of Advanced Psychological Studies at Adelphi University. She also received her Postdoctoral Certificate in Psychoanalysis and Psychotherapy from the Postgraduate Center for Mental Health in New York City. She is a member of the National Register of Health Service Providers in Psychology, the American Society for Reproductive Medicine's Psychological Special Interest Group, and the American Society of Psychosomatic Obstetrics and Gynecology, among many other professional affiliations. Dr. Josephs has authored numerous articles for leading medical publications and lectured before audiences nationwide on a range of topics. She also brings to patients the special understanding offered through her own personal experiences with infertility.
Dr. Josephs sees patients at CRM's main office on the Upper East Side. She can be reached at (646) 962-3316.