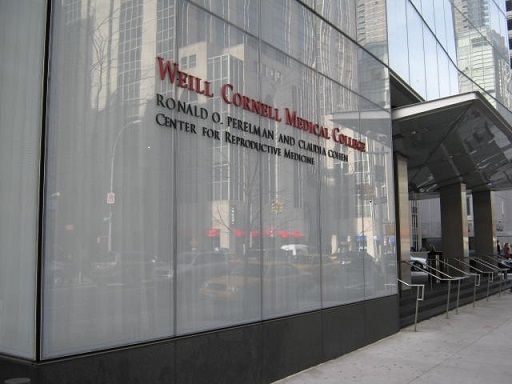 For over two decades, the physicians, scientists, nurses and staff of the Ronald O. Perelman and Claudia Cohen Center for Reproductive Medicine (CRM) of Weill Cornell Medical College have been helping people from around the world to complete their families. 
Excellence in Patient Care: Turning Patients into Parents
Since 1988, over 21,000 children have been born as a result of IVF cycles undertaken at CRM. Though many of our patients have been treated unsuccessfully elsewhere, our world-renowned fertility experts have helped them to realize their dream of parenthood. Indeed, CRM succeeds under some of the most challenging circumstances.
One key to our high success rates is our emphasis on personalized medicine: We take the time to learn each patient's unique story. This knowledge helps our physicians to choose the most appropriate and cost-effective treatment.
CRM offers comprehensive fertility services in a state-of-the-art setting. Our patient-care facilities at 1305 York Avenue in Manhattan's Upper East Side include 30 examination and consultation rooms, on-site blood testing and clinical laboratories performing the most sophisticated tests and procedures, including semen analysis, preimplantation genetic testing and intracytoplasmic sperm injection. Our physicians also see patients at offices in Manhattan's Tribeca neighborhood, as well as Brooklyn,  Garden City, Long Island, Mount Kisco, Westchester County, and Southampton.
We also offer on-site psychological support services to help patients cope with the stress that can accompany fertility treatment. Finally, CRM's patient coordinators and financial coordinators help patients to navigate the logistics of IVF and other fertility treatments.
Excellence in Research: Expanding the Possible
CRM is committed to the highest academic and scientific standards in patient care and biomedical research. Under the leadership of Dr. Zev Rosenwaks, CRM's physicians and scientists conduct research on the frontiers of reproductive medicine, focusing on improving existing treatments and finding new ways to help patients become parents. In fact, some fertility treatments in use around the world were developed by CRM physicians and scientists.
Excellence in Education: Training the Next Generation of Fertility Specialists
Our commitment to excellence in medical education and status as a premier reproductive medicine program makes Cornell's reproductive endocrinology and infertility fellowship one of the country's most prestigious.
CRM's former fellows continue to carry out our mission of excellence in patient care, research and education at leading medical centers throughout the United States and around the globe.