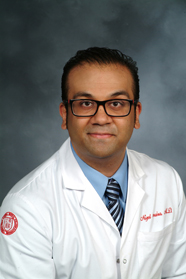 Assistant Professor of Reproductive Medicine and Obstetrics and Gynecology
Assistant Attending Obstetrician/Gynecologist, NewYork-Presbyterian Hospital
"The world-renowned team of physicians, scientists and clinical staff at the Ronald O. Perelman and Claudia Cohen Center for Reproductive Medicine have helped countless women and couples to overcome infertility. As a new member of this team, I strive to provide the highest standards of compassionate and personalized clinical care. My dedication to your aspirations of preserving fertility or having a healthy baby will be unconditional, beginning from your first appointment to the conclusion of your treatment."
Dr. Nigel Pereira is an Assistant Professor of Reproductive Medicine and Obstetrics and Gynecology at the Ronald O. Perelman and Claudia Cohen Center for Reproductive Medicine, Weill Cornell Medical College/New York-Presbyterian Hospital. Dr. Pereira received his Medical Degree with academic distinction from Weill Cornell Medical College in Qatar. He completed his residency training in Obstetrics/Gynecology at Hahnemann University Hospital/Drexel University College of Medicine, where he was named Chief Resident. During residency, he was the recipient of prestigious awards, including the Golden Apple Award for Excellence in Teaching, the APGO Resident Scholar for academic excellence and the Special Resident in Minimally Invasive Gynecology for surgical excellence (American Association of Gynecologic Laparoscopists), in addition to the CREOG award during all 4 years of residency for his performance on the annual national resident examinations. He completed his sub-specialty fellowship training in Reproductive Endocrinology and Infertility here at New York-Presbyterian Hospital/Weill Cornell Medical College.

Dr. Pereira's broad clinical expertise encompasses reproductive disorders such as anovulation, amenorrhea, polycystic ovarian syndrome (PCOS), endometriosis, recurrent pregnancy loss and abnormal uterine bleeding. Within the realm of fertility care, Dr. Pereira provides his patients individualized treatments including ovulation induction, controlled ovarian stimulation, IVF/ICSI and oocyte donation, as well as oocyte freezing for fertility preservation. He is a skilled surgeon performing minimally invasive hysteroscopic and laparoscopic surgeries for the treatment of benign fallopian tube pathologies, ovarian cysts, uterine fibroids, septate uterus and endometrial polyps. His certification from the American Association of Bioanalysts in Andrology and Embryology also allows him to assimilate the knowledge of established laboratory techniques into the treatment plans of his patients and their partners.

Dr. Pereira is a prolific clinical researcher. He has published over 75 research papers in leading scientific journals such as the New England Journal of Medicine, PLOS One, Human Reproduction, Fertility and Sterility, Obstetrics & Gynecology, and the Journal of Minimally Invasive Gynecology. He has also authored over 60 research abstracts and 7 book chapters. His research interests mirror his clinical interests and include IVF outcomes, reproductive surgery, fertility preservation, oocyte freezing, the long-term health of IVF/ICSI children and the genetic and epigenetic basis for unexplained infertility. He is a peer-reviewer for several high-impact journals and a member of the editorial board of the Journal of Assisted Reproduction & Genetics.

Dr. Pereira is a Diplomate of the American Board of Obstetrics & Gynecology, Fellow of the American Congress of Obstetricians and Gynecologists and board-eligible in Reproductive Endocrinology and Infertility. He is fluent in English, Hindi, Urdu, Konkani and Kannada and proficient in medical Arabic.

Dr. Pereira sees patients at CRM's Tribeca office in Lower Manhattan. For more information or to make an appointment, contact Yazmin Sanchez at (646) 962-7499.